|
|
Share: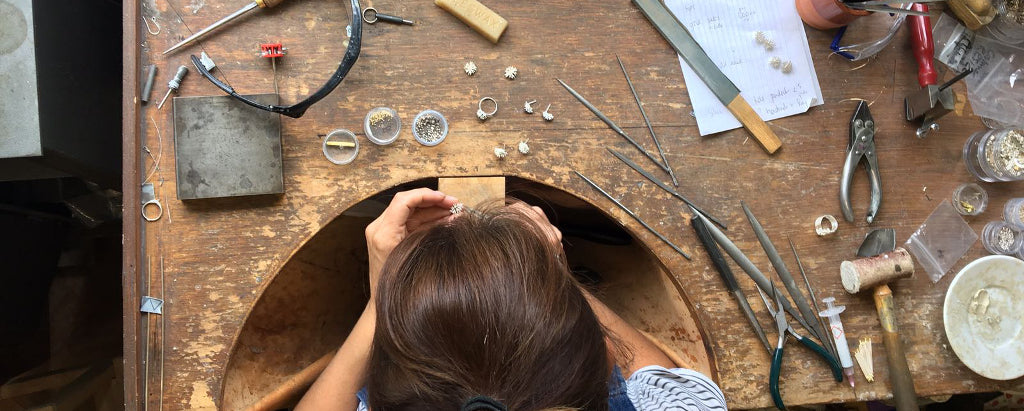 I strongly believe that 'true luxury' is feeling good about your choices and
if you've been keeping tabs on my designs, you'll probably know that I strive to be socially and environmentally responsible. This year I'm aiming to take my ethical practice to the next level - I plan to create all new designs using either recycled or fair-trade precious metals and source ethical stones.

Over the last few years I've been increasingly making changes to the way I work and stepping up my ethical credentials. There is a lot to consider with ethics and at times it has been a complex task deciding on the right steps for my business. To prevent it becoming overwhelming I've been building my progress step-by-step and setting
annual goals.
I have a small independent business and handcraft all designs in my London studio - which is a great starting point for an ethical business. Some designs need to be sent to a specialist caster but there are no factories - it is just myself assisted by Judith, a trained jeweller who works for me part time while building her own practice. Judith gains professional experience in a creative environment, while I benefit from her technical skills. It is a supportive and symbiotic working relationship. Furthermore my studio is based at
Cockpit Arts
which is a Social Enterprise. This means that the rent I pay goes back into supporting other start-up designer-maker businesses.
Recycling has also always been a natural part of my practice. To create each granule I need to melt high carat golds or silver and this process is an ideal way to re-use / re-work my clients own gold for commissions. As well as being an ethical option, recycling precious materials in this way can make the bespoke option more meaningful and accessible, which are benefits welcomed by my clients.

Over the last few years I've been looking for the best responsible sources for other precious materials. I'm now delighted to be working with a fantastic new supplier and skilled caster - who can provide 100% recycled silver bullion.  The silver pieces in my new
Sea Urchin
collection are made in recycled silver and I'll be creating all my new silver pieces in this beautiful material.

I've been a
Fairtrade Foundation
registered jeweller for some years now and my new supplier also provides gorgeous fair-trade precious metals. I always offer clients the fair-trade option for bespoke commissions and now aim to make all new gold pieces in the collection in either recycled or fair-trade gold. 
The diamonds I use are sourced from non-conflict areas and I am proud that I can now offer
Canada Mark
diamonds
.
I am increasingly working with coloured gem stone suppliers who offer responsibly mined and fully traceable jewels from a number of carefully selected sources around the world.
When sourcing I am ideally looking for transparent supply chains, conflict-free, fair wage, good working conditions and minimising impact on the environment. For me a crucial part of ethical practice is being honest and transparent and this means taking time to communicate the ethical credentials of different options to my clients.
Images from Sri Lanka, courtesy of nineteen84
As well as speaking to clients one-to-one, I've participated in talks about ethical practice at high-profile forums such as
Goldsmiths' Fair
and '
Making Impact
' the FLUX Fair Luxury Conference. My designs have been featured in exhibitions highlighting ethical design - including a beautiful showcase at
Goldsmiths' Centre
. These platforms not only help to spread awareness - they also provide me with the opportunity to build on my own learning and share my experiences with other practitioners.  
Much of my work is inspired by sea treasures and the movement of water. Over the last couple of years I've been donating a percentage of all direct sales of the
Tide Collection
to the
Marine Conservation Society
. This project has also helped to spread awareness about the impact of plastics to our oceans. I always reuse and recycle bags and I'm aiming to cut down on plastics further by using recycled padded envelopes and degradable parcel tape.
It has been a busy time researching and making these ethical changes - but it feels great to be heading in the right direction and making an impact. And I always take time to stop and reflect over a cup of tea or coffee in the studio! Fair-trade of course…