|
|
Share: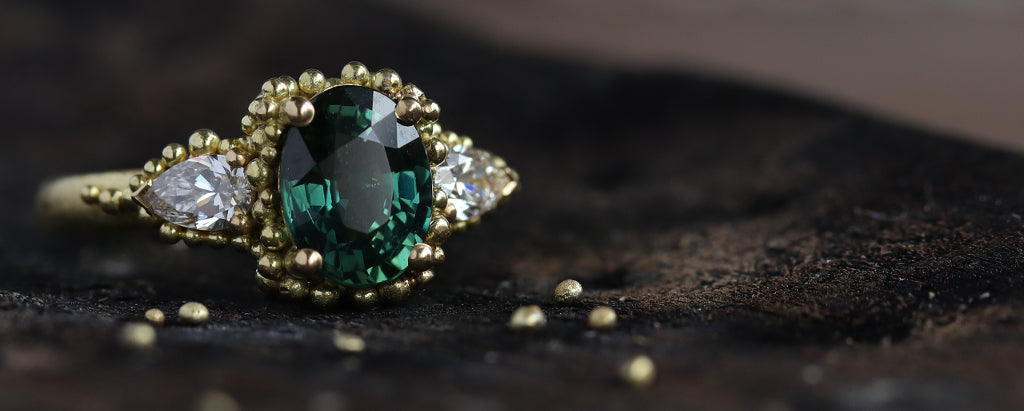 "I lose myself in the art of granulation, building intricate yet organic clusters. I interlace each jewel in beauty."
I am absolutely thrilled that 'Sapphire Reverie' has been selected for an award by
The Goldsmiths' Craft and Design Council
- known as the 'Jewellery Oscars'. It was awarded in the '3D Design - Fairtrade Jewellery' category.
This design is particularly special to me as it is a celebration of beautiful ethical materials - created using an innovative fusion of new technology and ancient craft technique. It is a one-of-a-kind ring, born from a creative collaboration with
Gill Wing Jewellery
 for a project called The Treasury. The occasion was particularly celebratory as the piece was selected for a bronze award alongside a design by my talented friend
Amanda Li Hope
.
Award winning designs will be on show at Goldsmiths' Hall this month - and the exhibition is open to the public from 25 - 28 February 2020.
Goldsmiths' Hall
Foster Lane
London, EC2V 6BN
Raw 18ct Fairtrade gold is available in limited dimensions. In order to realise 'Sapphire Reverie' the latest CAD design and casting methods needed to be employed - creating a perfect singular structure onto which to granulate.
Each unique Fairtrade gold granule was handcrafted on a charcoal block before being cleaned and individually applied to the ring. The bonding of these minute precious granules requires great skill and precision, a careful steady hand and, above all, a meditative like patience.
"We've created this design as a dream piece for our clients, a one of a kind treasure that I would love to own myself. Born from a passion for natural gemstones, the best ethical luxury materials and admiration for the incredible designer-makers we work with."
- Sarah Burns, Curator Gill Wing Jewellery