|
|
Share: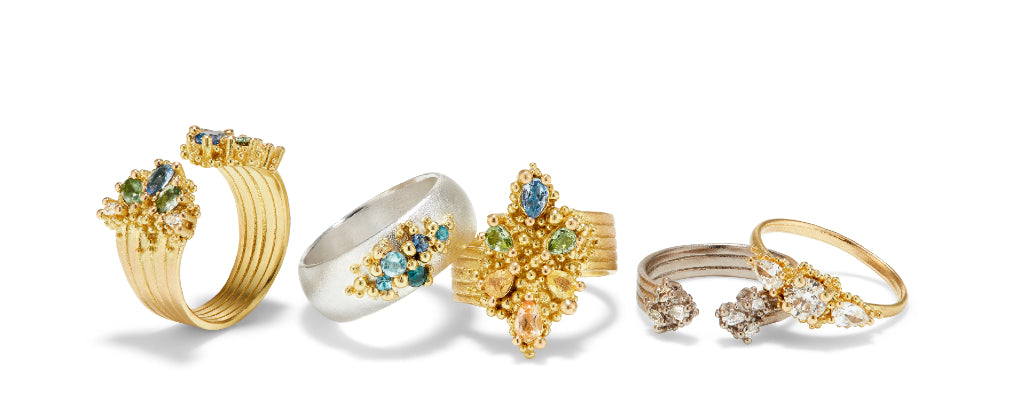 I wanted to create something spectacular and fresh to celebrate 40 years of Goldsmiths' Fair. My new
Rain Collection
evolved from a series of observations of droplets in nature - combined with complex technical explorations clustering and intertwining pear or 'raindrop' jewels in granulation. 
I'm entranced by glistening dewdrops suspended from leaves and shimmering raindrops nested in gossamer webs - each individual and perfect. I have always been drawn to natural formations and the movement of water - the spindrift from waves or the energy burst from a splash. There has been plenty of opportunity with the 'monsoon' style showers in recent weeks to gather more inspiration for this new collection - although a number of pieces were created during the London heatwave and the refreshment of being surrounded by 'raindrops' was just heavenly. 
The delicate gemstone colours in the
Rain Collection
were selected to evoke a spectrum of sunlight shades captured through shimmering droplets from dawn to dusk. I experimented with different raindrop formations - suspending droplets in gossamer webs of granulation and created intricate frameworks to juxtapose or nestle the drops together in rich granulation clusters. As part of the creative and technical process I combined signature
Tide
and
Cluster Collection
structures with 'raindrop' jewels and delicate sunlight tones - enriching the collection in a myriad of ways. 
A select number of pieces are now available to
preview online
and please join me at
Goldsmiths' Fair Week Two
for the launch. You'll find me in the Drawing Room at Stand 58. Umbrellas are optional...

.....................
GOLDSMITHS' FAIR
 
4 - 9 October 2022
Goldsmiths' Fair is the primary destination to discover the finest jewellery and silversmithing in the UK today. Browse and learn about over 130 master craftspeople making extraordinary pieces, available to purchase directly from them.
Goldsmiths' Hall, London EC2V 6BN
Enjoy 50% off ticket prices with the code
hbedford50
when booking.
Find out more >