|
|
Share: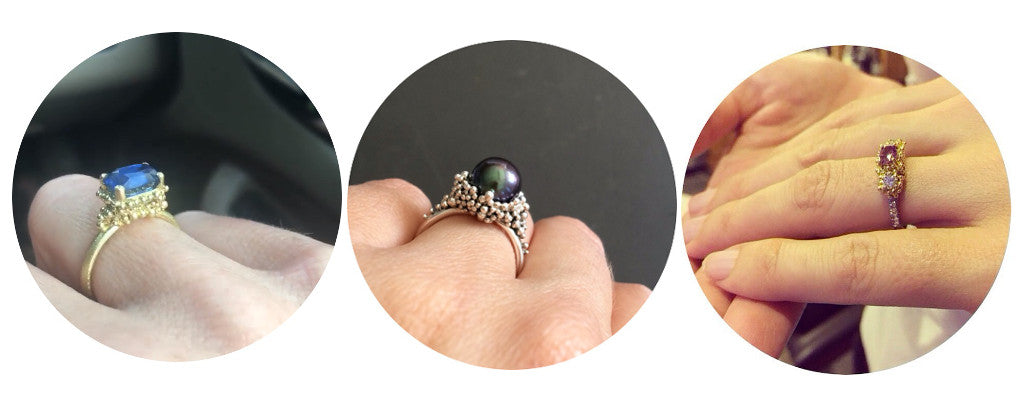 One of the many things I love about making jewellery is that I get to play a part in other people's stories. These are just three precious moments from the treasure trove of tales I have been told over the years…
ROMANCING THE STONE
Dan is something of a gemstone expert and bought an incredible deep blue sapphire from Sri Lanka which he gave to his wife Jess on their wedding day. A decade later, to celebrate their 10th wedding anniversary they commissioned me to work the sapphire into a statement granulation ring. The extraordinary stone was clustered in lavish gold granulation - it is such a joy to see it being worn.
THE BLACK PEARL
Commissioning a distinctive engagement ring as a complete surprise may sound a little risky, but if given careful thought it can more than pay off.  Lianna had seen my designs while visiting Lustre in Nottingham and her partner Dan had secretly taken note. Having carefully considered the design he approached me with his own ring sketch featuring a large black pearl set in a generous cluster of silver granules.
We worked together to source the perfect petrol black pearl, shimmering and iridescent, and create the ring of his imagining. Fittingly Dan proposed to Lianna by the sea in Whitstable, famous for its oysters and the location of one of the couples first dates. She was completely astounded when she saw the ring. Her answer, a resounding and delighted 'Yes'.
THE BIG UNWRAP

Following a romantic proposal in Louhans, France Daniela and her fiancé came to my studio to commission an engagement ring. They particularly loved a beautiful smoky-pink oval sapphire and opted for a triple cluster ring design set in gold granulation with two white diamonds as well as sparkling pave diamonds along the shoulder. This ring was going to be a showstopper, there was no holding back! Unbeknown to Daniela her betrothed secretly collected her dream ring to surprise her and on Christmas eve she was presented with a very large parcel...


"I peeled off the wrapping paper and another box was inside the first one and so on. I was so thrilled when I realised this was THE ring! I went to bed in the early hours of Christmas Day with the biggest smile on my face ever. I simply love it!"