|
|
Share: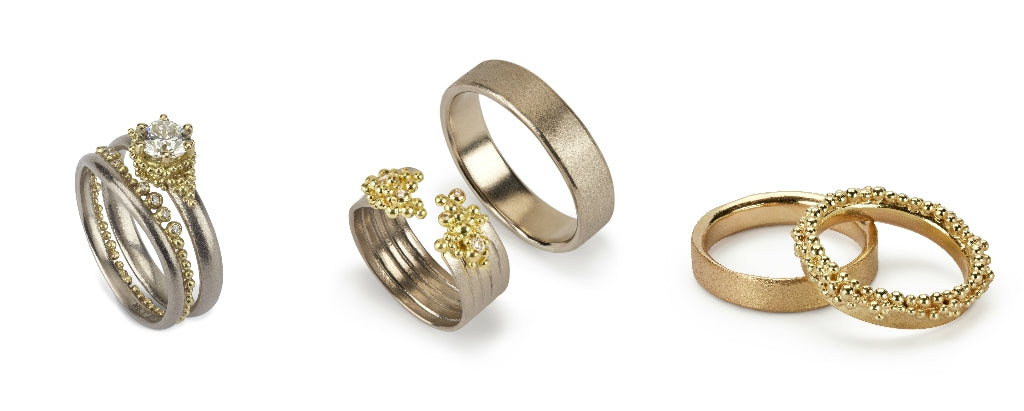 People often ask me how to choose the perfect
wedding rings
 and over the years I've put together my thoughts into something of a guide. There are no hard fast rules for wedding rings - for me it is all about the individual couples. One piece of advice I always give to clients - is that it is really important to choose something you love and make a choice that works for you! Whatever your budget - the process of choosing should be joyful, the rings should feel wonderful and they should make you smile. Here are my tips and guidelines to help you on your way. 

GET READY
Before you start on the process it is good to have a clear idea about your timeframe and budget. Starting points for my wedding rings are around £350 and range all the way to blow-the-budget bejewelled bespoke showstoppers. As everything is handcrafted there are also options to re-purpose your own existing materials and jewels. Re-purposing is not just about saving cost, this option can be an ethical choice or add sentimental value - imbuing extra meaning to wedding jewels.
Are you in a whirl of spontaneous wedding plans or do you have lots of time to prepare? Many signature designs in my collection can be crafted and delivered in around 15 working days or even sooner if needed. As a guide, I would usually allow between 4 - 8 weeks for fully bespoke pieces. Timeframes vary depending on the nature of the piece, the level of design required, sourcing the perfect precious metals and stones and the intricate handcrafting processes used. The timeframe also needs to allow for the piece to be sent away to be Hallmarked by the Assay Office.
THE PERFECT SHAPE
Hands are all so different and everyone has a ring shape that works best for them.
Don't feel too bound by convention - you can choose whatever shape works best for you and makes you happy - many designs feature my signature granulation and I also create very simple pieces. If possible,
arrange an appointment
to try a selection of designs and see which shapes work on your hand in terms of both look and feel. I follow all guidelines to provide safe,
socially-distanced consultations
in the studio.
Do you want your wedding ring to sit next to an
engagement ring
?  As my
wedding rings
are all handcrafted, the shape can be tailored to fit next to your existing ring.  If you have a centre stone you may need a ring which shapes around and complements your engagement ring.  My
Contour Rings
work beautifully for this. I can also create bespoke designs and variations of my existing pieces to work with your engagement ring - with or without my signature granulation. Find out more about
how to commission
 or simply arrange to visit the studio for a chat.  

Did you know that in Europe wedding and engagement rings are worn on separate hands? This is an option you may like to consider if the fit and feel is better for the engagement and wedding ring shapes you love. Or some people choose to have one special ring as a combined engagement and wedding ring.

CONSIDER COMFORT
You will be wearing your wedding ring every day so it is important that it feels as wonderful as it looks. Wedding rings are available in different widths and depths and there are options for different 'profiles' which are the style of band surface and edge. Carefully considering these factors will ensure your wedding ring is as comfortable and practical as possible. 


Court shaped rings, also known as comfort fit, are a great option if you don't usually wear rings.  These rings are oval in profile, with smooth rounded edges, making them really comfortable to wear.  Court wedding rings come in a variety of widths between 2mm and 8mm. I find that 2mm and 3mm bands are the most popular widths for women and 5mm for men.
Wave rings are another great option for a wedding band. These are flat in profile with a beautiful undulating edge and soft brush texture. They are comfortable to wear, with a low profile and available in a variation of widths.

SIZE UP
If you come in for a consultation I can arrange a measuring at the studio which is ideal. 
Rings should slide on easily over the knuckle and be a little more work to take off.  
Please bear in mind that your finger size may change slightly throughout the day, depending on the temperature and amount of physical activity.

If you are unsure of your finger size and cannot come to the studio, it is best to visit a local jeweller to get an accurate size. 
As a starting point it may also be helpful to view the size conversion chart on the Ringsizes website and download their PDF size guide. 

If the ring is a surprise and you don't know the size needed, there are a few things you can do.  If the recipient wears another ring you can secretly measure the internal diameter of the ring. Place the ring on a ruler and send me an image.  This will give me a good estimate of the size needed. 
Remember I can always adjust the ring size at a later date, as it can be hard to guarantee a perfect fit without a proper measuring.  There is no charge for the resizing of wedding and engagement rings.
 
MATERIAL MATTERS
Wedding rings are traditionally made from precious metals - gold, platinum or silver and these can also have different finishes. As well as considering the look and feel of a material it is also important to factor in budget, durability and wear - so your wedding ring stands the test of time.  
If you are going to wear your wedding ring next to an engagement ring, ideally, they should also both be the same metal. If you wear a softer metal next to a harder one, such as a gold ring next to a platinum one, the harder material will cause the other ring to wear down over time. 
One of my design styles is to combine different precious metals within one ring, which adds beautiful contrast. I can also provide options for ethical Fairtrade and Recycled materials as well as repurposing many of your own precious materials. 
GOLD
Gold is a wonderful and timeless choice of material for wedding rings.  It is available in a variety of colours and carats -
 you can choose between yellow, white or rose gold.  The price of a ring will vary depending upon the carat and colour of gold used.  
Pure gold (24ct) is very soft, hence it is alloyed with other materials to make it more durable.  The carats available are 9ct, 14ct, 18ct and 22ct golds.  These vary depending upon the amount of gold used in the alloy, the higher the gold mix the higher the carat and the cost. 
YELLOW GOLDS
18ct yellow gold is an excellent material for wedding rings.  It gives you a classic rich buttery colour and has a natural warmth and lustre.  It is a strong and durable metal, meaning it can withstand a lifetime of wear. 14ct yellow gold is lighter in colour making it a more of an understated / subtle choice than the higher carats of gold. 14ct yellow gold is also a durable material, making it an excellent choice.
WHITE GOLDS
18ct white gold is gold which has been alloyed with palladium to give a white metal.  Having a high gold content means it has a beautiful warm grey tone, as opposed to the cooler palate of 9ct white. This material is strong and highly durable. 
9ct white gold is gold that is alloyed with silver and is a good option if you prefer light silver tones.  This option will give you more durability than silver and has a cool natural tone however it is less durable than 18ct.

I choose to work with white gold in its natural colour, meaning it isn't rhodium plated.  This gives you the true natural colour of either a cool 9ct white gold or the warm 18ct white gold.  Often rings on the high street are rhodium plated, to give them a surface colour closer to platinum.  Over time this plating will wear off.  
If you would prefer to have rhodium plating this can be arranged, but please note it will need
re-plating
over time.  
ROSE GOLDS
Rose gold has a copper alloy that not only gives it a beautiful pink shade but also added durability.  This metal is a beautiful and alternative choice with lots of warmth to its colour.
PLATINUM
This is an extremely durable and dense material and its strength makes it a popular choice for wedding rings.  It is a naturally white metal, with a soft hue that won't tarnish or fade.  My rings can be created in platinum, please contact me if you wish to discuss this option.
SILVER
Silver is a softer metal, meaning it won't resist scratching and can change shape over time with wear and tear, which is not ideal for a wedding ring.  If you opt for this material, it is important to make sure the ring is robust in design to help withstand wear.  Silver is an affordable option but can tarnish, so please be aware that silver rings may need extra cleaning.
JEWELS
You can opt to have stones included in your wedding band and 
I can provide ethically sourced jewel options. Diamonds and sapphires make great choices as they are hard wearing and add beautiful sparkle. The stones can be set flush within the bands or nestled into the granulation.
KEEP CARING
You are entering into a long and beautiful relationship with your wedding jewellery, so it is important to keep caring. I provide an alteration and cleaning service and have produced a set of
guidelines
to help you care for your jewellery.