|
|
Share: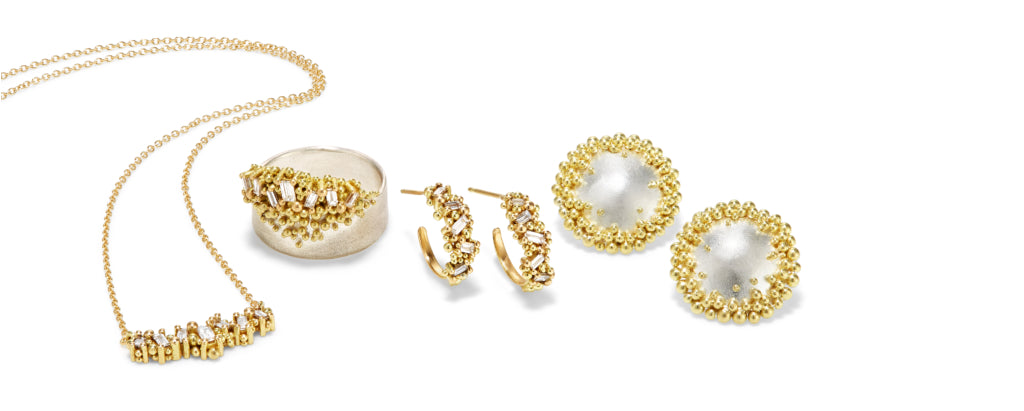 The sheer majesty of
Goldsmiths' Fair
leads me to explore more freely and to go wilder and bolder in my designs each year.
For 2023 I'm thrilled to present
'D R I F T   L I N E S'
.
My love of the ocean has taken me on new explorations of natural line, texture and tone along the
Gower Peninsular
. Sea treasures strewn along tide lines and formations of scattered razor clam shells on shimmering sands.​​​​​​​​​
Muddy skies meet shocks of green and blue or soft peachy hues of golden-hour.
Drawing on my signature mixed-metal granulation, I've been developing an exciting new interplay of natural line and flowing granules.  Shorelines of silver are richly embellished with surges of gold droplets or scattered with jewels. Formations of baguette diamonds are entwined with rich granulation detailing. A technical challenge with each individual jewel requiring multiple size 'granule' claw settings to create a natural organic flow. Dazzling new Adorn pieces are also bejewelled with raindrops, haloed in ocean toned stones or find textural contrast in combinations of silver and gold.  
A preview selection of 'D R I F T   L I N E S' pieces
can now be viewed online
with many more to see at
Goldsmiths' Fair.
  I hope to see you at the show, find me at Stand 65 in the Livery Hall.
GOLDSMITHS' FAIR
Week One: 26 September - 1 October 2023
Goldsmiths' Hall, Foster Lane, London, EC2V 6BN
Stand 65 in the Livery Hall.