|
|
Share: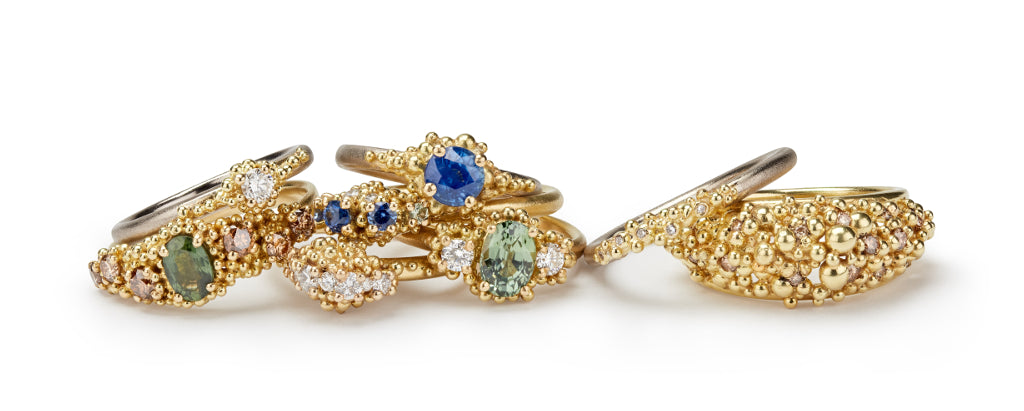 I'm delighted to announce an exciting line up of Spring Showcases including 'Women Who Weld: A Curation of Britain's Leading Jewellery Designers' at Anthropologie as well as 'The Spring Exhibition' at The Biscuit Factory and the 'Alternative Wedding Showcase' at Tomfoolery London.
I've been sourcing evermore ethical precious materials for my latest designs and will also be speaking about this at 'Making Impact' the FLUX Ethical Luxury Conference next month.
- ANTHROPOLOGIE -

7 March - 23 April
As the lead of a small all-women team I'm especially glad to celebrate International Women's Day with 'Women Who Weld' an exhibition at Anthropologie's Kings Road Gallery. Featured granulation jewels include Tide Collection and Sea Urchin designs created in recycled silver and bejewelled with ethically sourced gems.
This curated collection of jewellery by female British designers was conceived by Anthropologie's Head Buyer for Accessories Caroline Thruston and showcases eight designers - using an impressive array of artisan techniques and handcrafting designs in the UK. 
I'll be the 'Artist in residence on Saturday 16 March: 11am-2pm - so do pop in to say hello!
Mon - Sat 10am-7pm and Sun 12pm-6pm
Anthropologie
131 – 141 Kings Road
London, SW3 4PW
More about Women Who Weld >
- FLUX ETHICAL LUXURY CONFERENCE - 
3 April 2019
Handcrafting work and running a small independent business, I've always had a strong sense of ethical awareness and my decision to become a Fairtrade Foundation Registered Jeweller in 2017, really spurred me on to explore other ethical changes.  
I'm delighted to speak about Ethical Jewellery in Practice alongside Stefanie Cheong at 'Making Impact' the FLUX Ethical Luxury Conference next month. There is an impressive line-up of speakers exploring ways to make a positive social, environmental and economic impact.
9am-6.30pm 
Edinburgh College of Art
74 Lauriston Place
Edinburgh, EH3 9DF 

FLUX information & Booking >

- THE BISCUIT FACTORY -
1 March - 26 May
A collection of new designs and signature pieces will be on show at The Biscuit Factory's 'Spring Exhibition'. Featuring new artwork from more than 250 artists - this new exhibition encompasses a contemporary mix of paintings, prints, ceramics, sculpture, glass and one of the largest collections of handmade jewellery in the city.
Mon - Sun 10am-5pm
The Biscuit Factory
16 Stoddart St
Newcastle upon Tyne, NE2 1AN 
More about The Spring Exhibition >
- TOMFOOLERY -
23 March - 4 May
The annual 'Alternative Wedding Showcase' presents a stunning array of wedding jewellery designs - perfect for anyone looking for something a little different. 
Mon- Sat 9.30am-5.30pm
109 Fortis Green Road
Muswell Hill
London, N10 3HP
More About Tomfoolery >
- OPEN STUDIOS -
21 - 23 June
Cockpit Arts will open their doors again this Summer so you can explore the studios of over 170 of London's leading designer-makers. 
Fri 2-8pm, Sat 11am – 6pm, Sun 12-5pm
Studio 210, Cockpit Arts
18 - 22 Creekside
London, SE8 3DZ
More About Cockpit Arts >