|
|
Share: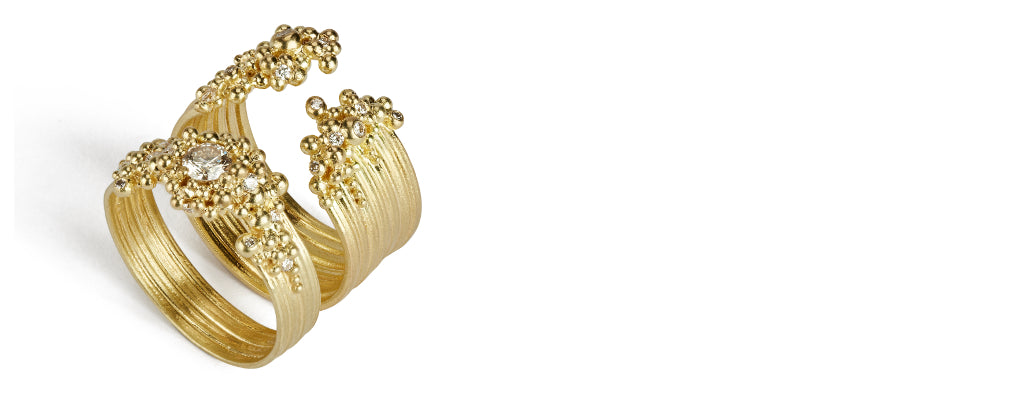 I'm thrilled to announce that I'll be exhibiting at Goldsmiths' Fair (Week 2) this year, and I was delighted to tell them all about my new design developments for their blog about the Cockpit Arts Open Studios.
Read the interview >
-  GOLDSMITHS' FAIR  -
I'm working on some beautiful new design developments for this amazing jewellery extravaganza - including sculptural pieces featuring white gold, ocean toned jewels and lavish granulation. I can't wait to share them with you, so please save the dates.
Week 2
2 – 7 October
Goldsmiths' Hall, Foster Lane, London EC2V 6BN
Stand 59
- OPEN STUDIOS   -
I'm sprucing up the studio, and putting the finishing touches to lots of gorgeous granulation designs, in time for one of my favourite events of the year! Do come and join me for the Summer Open Studios and meet 170 of my talented fellow makers at Cockpit Arts. Look out for my Summer rings in refreshing ice-cream shades - berry blush morganite, mint green sapphires and Champagne sorbet diamonds. 
Holborn: 8 – 10 June
Cockpit Yard, Northington Street, London, WC1N 2NP
Studio E2
Deptford: 15 – 17 June
18-22 Creekside, London, SE8 3DZ
Studio 210
Fri 6pm – 9pm, Sat & Sun 11am – 6pm
Free Admission

Find out more >