|
|
Share: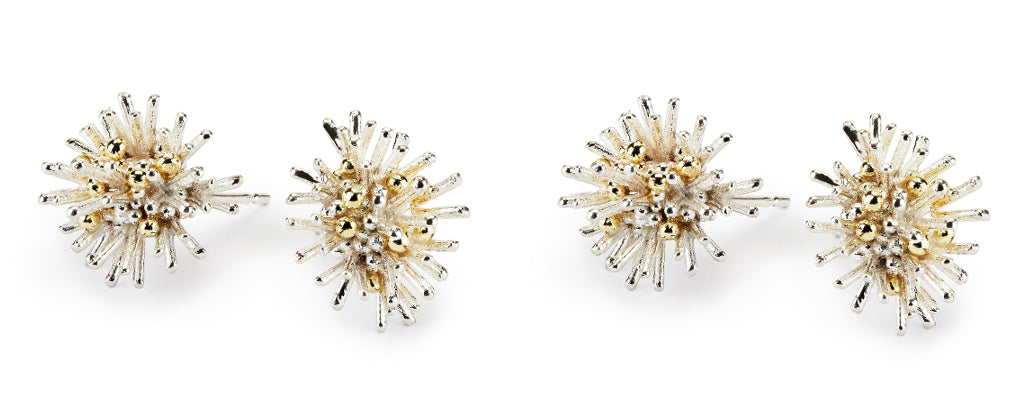 I've been busy creating a completely new 
Sea Urchin collection
to preview at
Goldsmiths' Fair
(Week 2), inspired by the exquisite linear patterns found on sea urchin shells. I've collected these marvels of nature since I was a child and have always been drawn to their mesmerising form.
In the new work, silver spine settings form a contemporary structure, which is meticulously embedded and scattered with combinations of gold and silver granulation. Sea urchins can be found in many different colours, as well as pure white. Oxidised silver and gold variations, capture the dramatic aesthetic of the darker coloured species.
I've also created a new swoop of
Tide Collection
showstoppers for the fair. Designs feature stunning CanadaMark diamonds and ethically-sourced, ocean-toned sapphires - set in waves and whorls of 18ct fair trade Gold and recycled-silver granulation. There are also pretty new Cove earrings and pendants, formed with sumptuous curves of gold, cinched with granulation detailing.
-  GOLDSMITHS' FAIR  -

Week 2
2 – 7 October
Goldsmiths' Hall, Foster Lane, London EC2V 6BN
Stand 59

Find out more >
-  AFTERNOON TALK  -
I've been a
Fairtrade Foundation Registered Jeweller
for some time now and have a growing interest in sourcing ethical precious materials for my designs. I'm delighted to be joining jewellery expert, Janice Hosegood, and fellow jeweller Marie Walshe for an Afternoon Talk at Goldsmiths' Fair to share my learnings on this important topic. 
Saturday 6 October
Talks begin at 1.30pm in the Court Room.
Afternoon Talks are free but require a valid entrance ticket to Goldsmiths' Fair.

Find out more >