|
|
Share: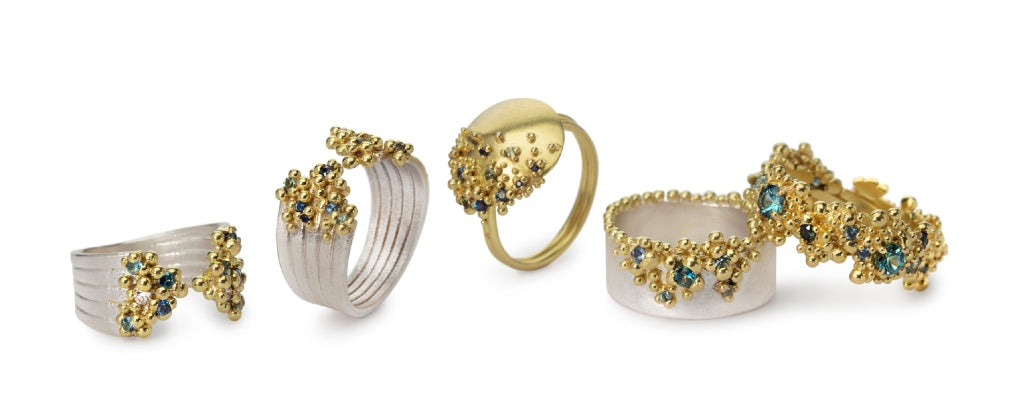 I'm thrilled that Goldsmiths' Fair will be returning to the splendour of Goldsmiths' Hall this year. I will be exhibiting during Week Two - from 5-10 October. In preparation all of my collections are being refreshed with invigorating new ocean inspired pieces - celebrating stunning ethical and sustainable materials. Meticulously handcrafted in my London studio, one-of-a-kind bejewelled showstoppers are complemented with beautifully wearable designs - for you to dive into everyday. 
View the new collection online >
_______________
Sea Treasures
I'll be revealing new showstopper
Sea Urchin necklaces
embedded with gorgeous ethically sourced teal and sea green sapphires or sparkling white diamonds.

Tide
Among a trove of new Tide pieces there will be magnificent
Whirlpool rings
featuring a continual whirl of granulation and gems. Beautifully wearable
Tide Bands
froth with granule droplets and sculptural ear jackets flow elegantly around the lobe. 
Granule
A new take on a signature classic - I'm introducing a series of new shimmering
scattered granulated hoop
earrings interlaced and richly entwined with granulation.  
Berry
New ocean toned
Berry studs
and statement
five-tier drops
feature beautiful filigree components. All handcrafted in 18ct yellow gold granulation and set with a shimmer of sea green and pale blue sapphires. 

Adorn
I'm presenting a new 
oval aquamarine 

earring design
- which can be worn as simple studs or dramatic drops - suspending a silver tear, adorned with a scattering of tonal sapphires, aquamarines and zircons. 


Cluster
New
delicate drop earrings
with ethically sourced white diamonds are set in rich 14ct yellow gold clusters and accompany a simple cluster diamond pendant. 



Crown
A new bejewelled variation of my signature
crown ring
- features a textured silver band, crowned in 18ct yellow gold granules and adorned with a scattering of ocean toned sapphires. The ethically sourced jewels in sea blues and greens - are nestled in between golden granules.
View the complete collection now >

_______________
GOLDSMITHS' FAIR 
5 - 10 October 2021

'The primary destination to discover the finest jewellery and silversmithing in the UK.' Goldsmiths' Fair is returning to the splendour of Goldsmiths' Hall this year. Hannah will be exhibiting during Week Two at stand 38.

Goldsmiths' Hall, London EC2V 6BN

10.30am – 6pm Daily
10.30am – 3.30pm Sundays